Be Like Bone: A Work-In-Progress Sharing
December 5, 2022 @ 2:00 pm

-

4:00 pm

Free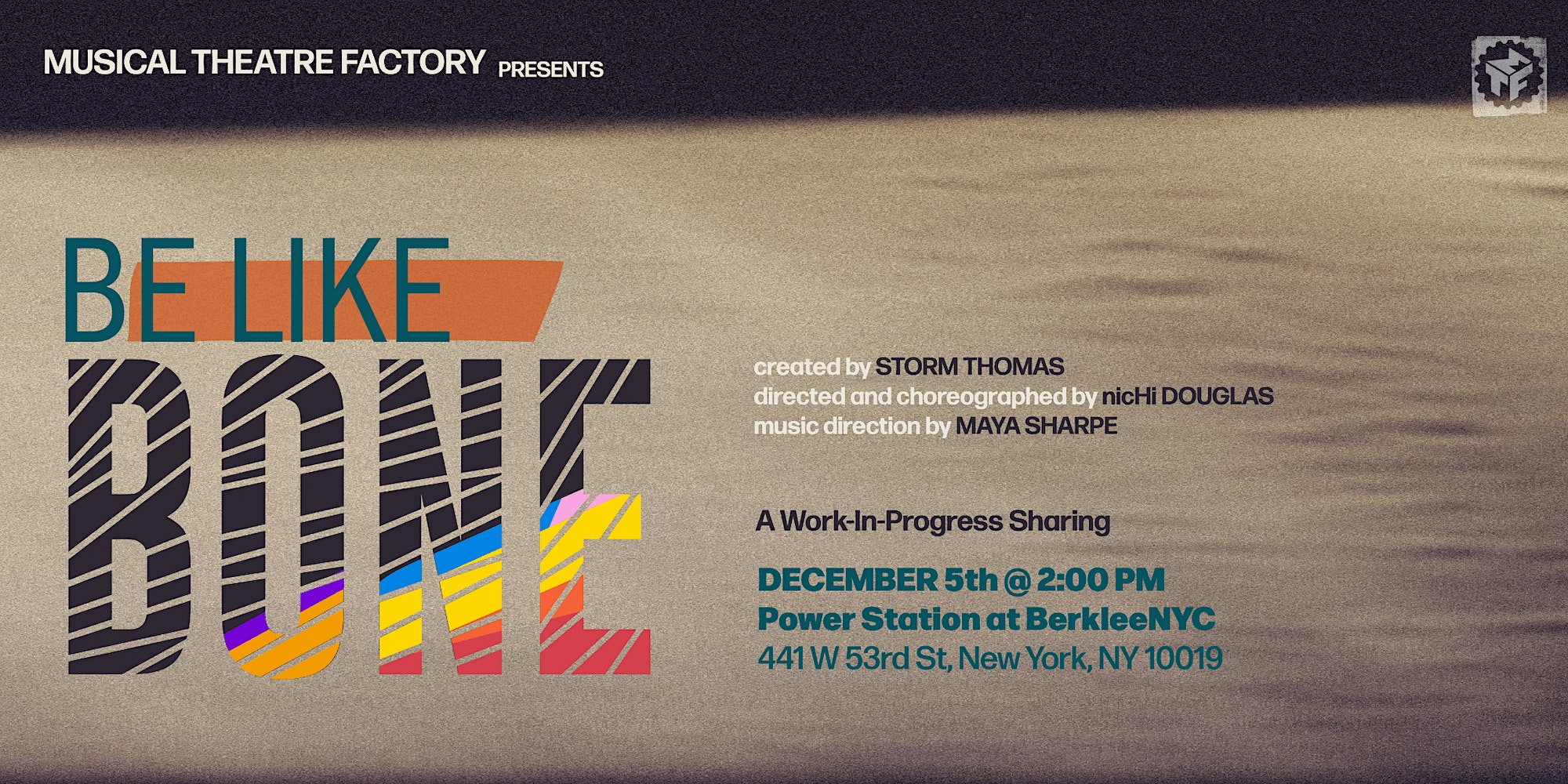 CREATED BY Storm Thomas
DIRECTED AND CHOREOGRAPHED BY nicHi douglas
MUSIC DIRECTION BY Maya Sharpe
ABOUT THE SHOW:
Be Like Bone is a new form of musical theater. Expressionist, Impressionist, rhythmic, dense – the show is a study on presence and the way we look at the past. Vivid, layered, echoeing: This is not a period piece. Be Like Bone is an investigation into the overlap between black queer/transness and the musical theater form. Act 1: the late 1890's, Act 2: the early 1930's, Act 3: 1991 — each represents a formative step in this…relationship. Be like Bone is about connections, about patterns- friendship, sex, and collaboration between the most remembered, talented, artists of their era and the way the world treated them. Be Like Bone sounds like a city – tumbling brick runs into music, music you can dance to, and the characters like Aida, George, Zora, Langston, Wallace, Bob and more are moved to speak. The music is uniquely generative – it's a tUnE – yArD's meets Anderson .Paak meets André 3000 type vibe.
ABOUT THE ARTISTS:
Storm Thomas is an intensely creative and rigorous thinker. A multi-hyphenate drummer, writer, composer, and educator; Storm has been combining music, theater, and social justice theory single-mindedly and is sought out not just as a skilled maker but as a teacher, dramaturg, and consultant on intersectional thought in the musical theater form. Storm writes musicals: Notes on the Past (Trans Theater Fest), Ancient Future (Polyphone Festival), and Be Like Bone (in progress). Storm is a co-founder of Theater, But Dance. Storm is currently an adjunct faculty member at Sarah Lawrence College and NYU Tisch Theater Studies, teaching an MFA Studio course and History of Musical Theatre respectively. Past teaching experience includes: University of the Arts (Black Musical Theatre, New Musical Theater Lab), NYU Tisch Theater Studies (Queer Musical Theater), Playwrights Downtown (Music for Performance), Theater of the Oppressed NYC, Completely Ridiculous Productions (Anti-Racist Musical Theater). Awards and accolades: New Visions Fellowship Finalist, Baltimore Center Stage finishing commission, NYSCA Grant Recipient FY2022. Storm is black and trans. Education: MFA in Theatre, Sarah Lawrence College. Storm is currently in residence with Musical Theater Factory. Storm will be speaking at the Musical Theatre Educators' Alliance Conference on White Supremacy and Musical Theater in January 2023.
nicHi douglas is a Brooklyn-based artist, educator, activist and 2021 Princess Grace Award winner. you can refer to her/him/them/us using any pronoun said with Respect. we have developed original theater work at The Public Theater, Roundabout Theatre Company, New Victory, Lincoln Center, Long Wharf, Pig Iron, Denver Center, and Berkeley Rep, among others. they have created interactive dance exhibits for the National Museum of African-American Music and the New York Hall of Science. nicHi's mutual aid fund, nicHi's SuSu, launched in 2020 and has raised over $17K for Black artists. nicHi has been commissioned by Mimi Lien & Itohan Edoloyi to create a social sculpture on Lincoln Center's campus for Spring/Summer 2023.
nicHi is a member of the Faculty Leadership Committee in the Playwrights Horizons studio at NYU Tisch Drama (Undergrad), where she teaches in the Movement Area. nicHi also guest lectures at Yale School of Drama.
stage credits: Girl From the North Country (Public Theater, Associate Choreographer), SKiNFoLK: An American Show (NYT Critic's Pick//The Bushwick Starr/National Black Theater, Choreographer), Weightless (WP Theater, Choreographer)
upcoming: (pray) (Ars Nova, Playwright/Director/Choreographer – co-composed by Starr Busby, JJJJJerome Ellis and Tariq Al-Sabir), The Harriet Holland Social Club Presents … (The Movement Theatre Company/New Georges, Choreographer) | www.mynameisnichi.com
ABOUT THE ORGANIZATION:
MUSICAL THEATRE FACTORY (MTF) is committed to dismantling oppressive ideologies toward collective liberation, centering artists of excellence who exist in the intersections of underrepresented groups. We develop changemaking new musicals in a joyous, collaborative community free from commercial pressures.
This project is made possible in part by the National Endowment for the Arts and the New York State Council on the Arts with the support of Governor Kathy Hochul and the New York State Legislature.